LT. GOVERNOR MOLLY GRAY URGES VERMONT CONGRESSIONAL DELEGATION TO REPLENISH RESTAURANT REVITALIZATION FUND
Montpelier, Vt - Today, Lt. Governor Gray released a letter sent to the Vermont Congressional Delegation urging the Delegation to replenish the federally-funded Restaurant Revitalization Fund (RFF) and highlighting the growing workforce shortage and staffing needs of Vermont restaurants.
"I know I speak for all Vermonters in expressing my deep appreciation for the work of our Congressional delegation to meet the urgent recovery needs of Vermonters in cooperation with our Governor and Legislature," Lt. Governor Gray said, "In the spirit of continued cooperation, I hope this letter highlights for the Delegation the importance of replenishing the Fund and the ongoing urgent recovery needs of our Vermont restaurants."
###
_________________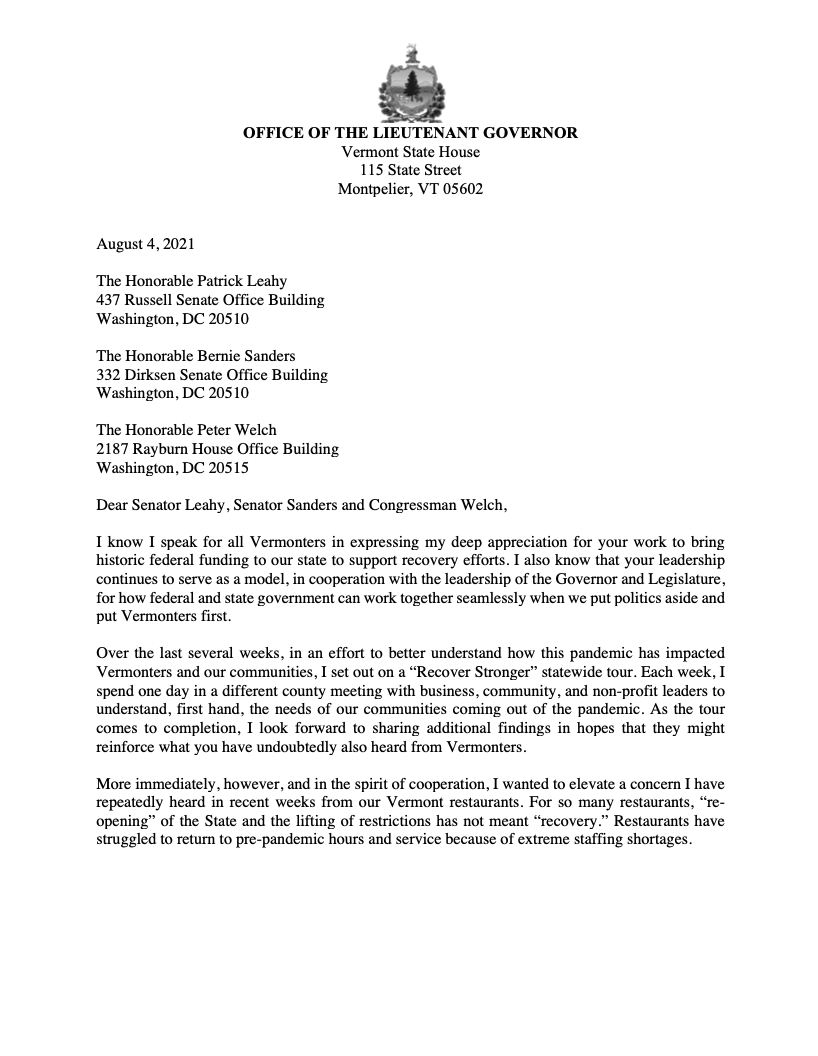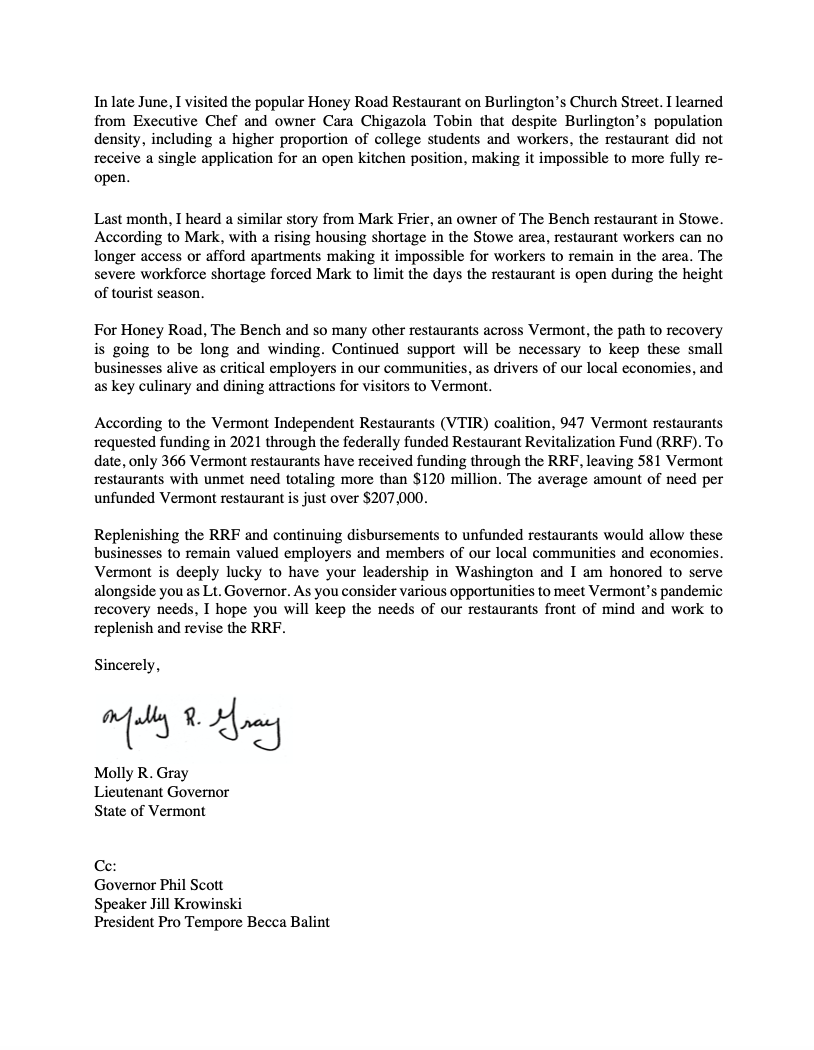 _________________
August 4, 2021
The Honorable Patrick Leahy
437 Russell Senate Office Building Washington, DC 20510
The Honorable Bernie Sanders
332 Dirksen Senate Office Building Washington, DC 20510
The Honorable Peter Welch
2187 Rayburn House Office Building Washington, DC 20515
Dear Senator Leahy, Senator Sanders and Congressman Welch,
I know I speak for all Vermonters in expressing my deep appreciation for your work to bring historic federal funding to our state to support recovery efforts. I also know that your leadership continues to serve as a model, in cooperation with the leadership of the Governor and Legislature, for how federal and state government can work together seamlessly when we put politics aside and put Vermonters first.
Over the last several weeks, in an effort to better understand how this pandemic has impacted Vermonters and our communities, I set out on a "Recover Stronger" statewide tour. Each week, I spend one day in a different county meeting with business, community, and non-profit leaders to understand, first hand, the needs of our communities coming out of the pandemic. As the tour comes to completion, I look forward to sharing additional findings in hopes that they might reinforce what you have undoubtedly also heard from Vermonters.
More immediately, however, and in the spirit of cooperation, I wanted to elevate a concern I have repeatedly heard in recent weeks from our Vermont restaurants. For so many restaurants, "re- opening" of the State and the lifting of restrictions has not meant "recovery." Restaurants have struggled to return to pre-pandemic hours and service because of extreme staffing shortages.
In late June, I visited the popular Honey Road Restaurant on Burlington's Church Street. I learned from Executive Chef and owner Cara Chigazola Tobin that despite Burlington's population density, including a higher proportion of college students and workers, the restaurant did not receive a single application for an open kitchen position, making it impossible to more fully re- open.
Last month, I heard a similar story from Mark Frier, an owner of The Bench restaurant in Stowe. According to Mark, with a rising housing shortage in the Stowe area, restaurant workers can no longer access or afford apartments making it impossible for workers to remain in the area. The severe workforce shortage forced Mark to limit the days the restaurant is open during the height of tourist season.
For Honey Road, The Bench and so many other restaurants across Vermont, the path to recovery is going to be long and winding. Continued support will be necessary to keep these small businesses alive as critical employers in our communities, as drivers of our local economies, and as key culinary and dining attractions for visitors to Vermont.
According to the Vermont Independent Restaurants (VTIR) coalition, 947 Vermont restaurants requested funding in 2021 through the federally funded Restaurant Revitalization Fund (RRF). To date, only 366 Vermont restaurants have received funding through the RRF, leaving 581 Vermont restaurants with unmet need totaling more than $120 million. The average amount of need per unfunded Vermont restaurant is just over $207,000.
Replenishing the RRF and continuing disbursements to unfunded restaurants would allow these businesses to remain valued employers and members of our local communities and economies. Vermont is deeply lucky to have your leadership in Washington and I am honored to serve alongside you as Lt. Governor. As you consider various opportunities to meet Vermont's pandemic recovery needs, I hope you will keep the needs of our restaurants front of mind and work to replenish and revise the RRF.
Sincerely,
Molly R. Gray Lieutenant Governor State of Vermont
Cc:
Governor Phil Scott
Speaker Jill Krowinski
President Pro Tempore Becca Balint