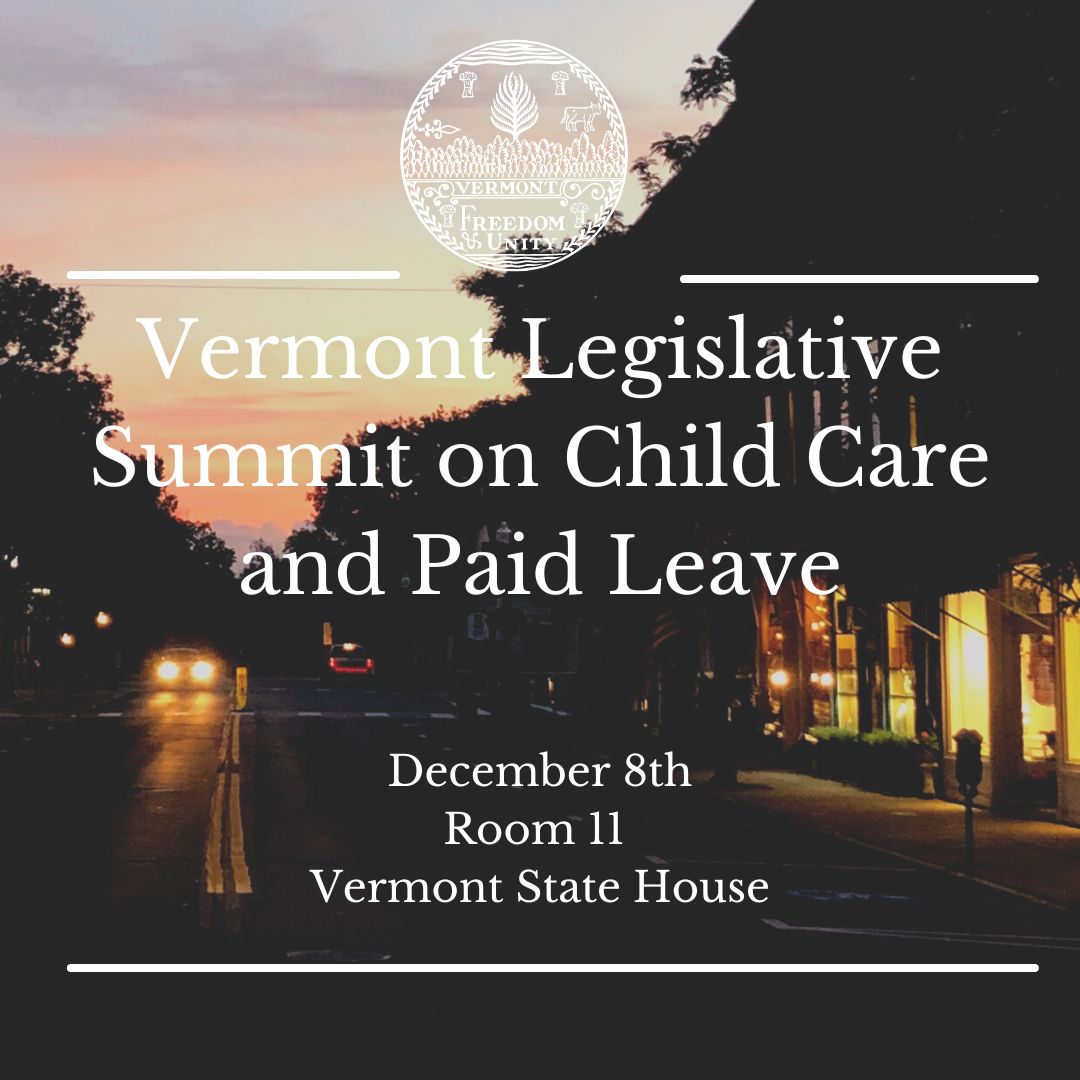 Lt. Governor Molly Gray and House Speaker Jill Krowinski are hosting a summit of policymakers and advocates that will focus on working families, the caregiving economy, and universal access to paid family leave as well as child care in Vermont.
The Summit will be held on Thursday, December 8th from 9:00am to 12:00pm in Room 11 at the Vermont State House and virtually online.
Register for in-person attendance by emailing: Andrew.Gillespie@Vermont.gov
Register for virtual attendance here.
8:30am                         Registration
9:00 - 9:15am              Welcome & Opening Remarks       
9:15 - 10:30am            Panel Discussion
Back to the basics: Understanding universal paid family and medical leave and why it matters for Vermont.
This panel aims to demystify universal paid family and medical leave and identify best practices. The panel will also explore the impact of paid family and medical leave (or a lack thereof) on Vermont employers, employees, working families and marginalized groups.
Panelists
Michelle Fay, Executive Director, Voices for Vermont's Children
Cary Brown, Executive Director, Vermont Commission on Women
Kelly Stoddard Poor, Associate State Director of Advocacy and Outreach, AARP Vermont
Kiah Morris, Executive Director, Rights and Democracy
Jordan Giaconia, Public Policy Manager, Vermont Businesses for Social Responsibility
Moderator
Lt. Governor Molly Gray
10:30 - 10:45am          Break 
10:45 – 12:00pm         Panel Discussion
Universal, affordable child care access: Why it matters and opportunities for success.
This panel aims to provide an overview of what is meant by universal, accessible, affordable, high-quality child care. Panelists will discuss current data as well as economic, business and family impacts of a lack of child care access in Vermont.
Panelists
Aly Richards, Chief Executive Officer, Lets Grow Kids
Janet McLaughlin, Executive Director, Vermont Association for the Education of Young Children
Adeline Druart, President, Vermont Creamery & Vice President, Land O'Lakes
Nikki Tetrault, Director of Marketing and E-Commerce, Instrumart
Chris Nelson, Director, Mountain View Child Care

Moderator
House Speaker Jill Krowinski
12:00pm                      Closing Remarks