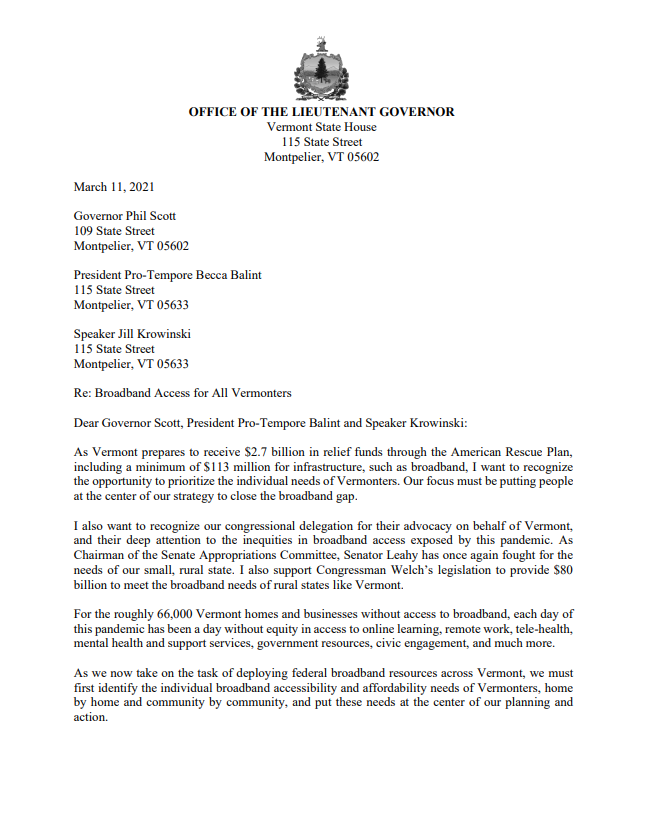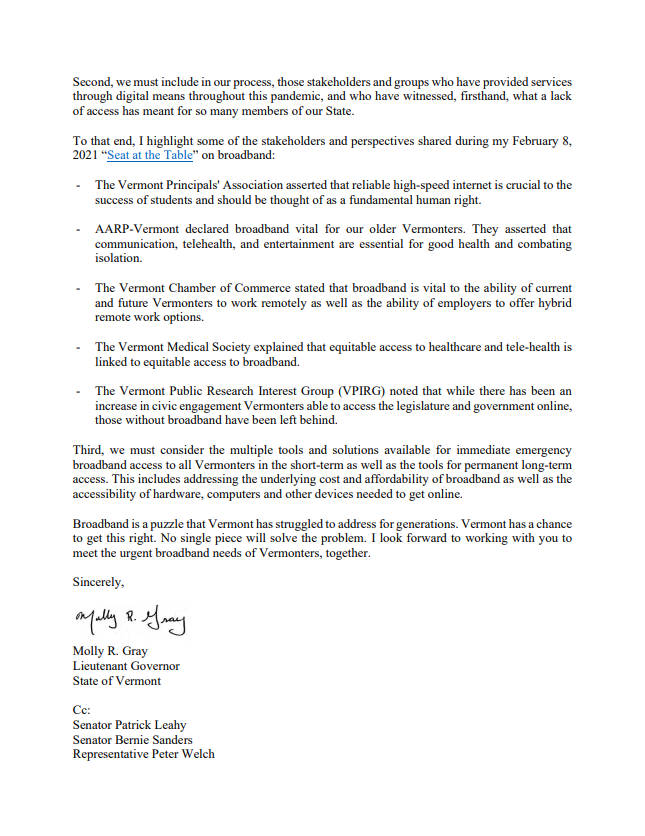 ---
March 11, 2021
Governor Phil Scott
109 State Street
Montpelier, VT 05602
President Pro-Tempore Becca Balint
115 State Street
Montpelier, VT 05633
Speaker Jill Krowinski
115 State Street
Montpelier, VT 05633
Re: Broadband Access for All Vermonters
Dear Governor Scott, President Pro-Tempore Balint and Speaker Krowinski:
As Vermont prepares to receive $2.7 billion in relief funds through the American Rescue Plan, including a minimum of $113 million for infrastructure, such as broadband, I want to recognize the opportunity to prioritize the individual needs of Vermonters. Our focus must be putting people at the center of our strategy to close the broadband gap.
I also want to recognize our congressional delegation for their advocacy on behalf of Vermont, and their deep attention to the inequities in broadband access exposed by this pandemic. As Chairman of the Senate Appropriations Committee, Senator Leahy has once again fought for the needs of our small, rural state. I also support Congressman Welch's legislation to provide $80 billion to meet the broadband needs of rural states like Vermont.
For the roughly 66,000 Vermont homes and businesses without access to broadband, each day of this pandemic has been a day without equity in access to online learning, remote work, tele-health, mental health and support services, government resources, civic engagement, and much more.
As we now take on the task of deploying federal broadband resources across Vermont, we must first identify the individual broadband accessibility and affordability needs of Vermonters, home by home and community by community, and put these needs at the center of our planning and action.
Second, we must include in our process, those stakeholders and groups who have provided services through digital means throughout this pandemic, and who have witnessed, firsthand, what a lack of access has meant for so many members of our State.
To that end, I highlight some of the stakeholders and perspectives shared during my February 8, 2021 "Seat at the Table" on broadband:
The Vermont Principals' Association asserted that reliable high-speed internet is crucial to the success of students and should be thought of as a fundamental human right.

AARP-Vermont declared broadband vital for our older Vermonters. They asserted that communication, telehealth, and entertainment are essential for good health and combating isolation.

The Vermont Chamber of Commerce stated that broadband is vital to the ability of current and future Vermonters to work remotely as well as the ability of employers to offer hybrid remote work options

The Vermont Medical Society explained that equitable access to healthcare and tele-health is linked to equitable access to broadband.

The Vermont Public Research Interest Group (VPIRG) noted that while there has been an increase in civic engagement Vermonters able to access the legislature and government online, those without broadband have been left behind.
Third, we must consider the multiple tools and solutions available for immediate emergency broadband access to all Vermonters in the short-term as well as the tools for permanent long-term access. This includes addressing the underlying cost and affordability of broadband as well as the accessibility of hardware, computers and other devices needed to get online.  
Broadband is a puzzle that Vermont has struggled to address for generations. Vermont has a chance to get this right. No single piece will solve the problem. I look forward to working with you to meet the urgent broadband needs of Vermonters, together.

Sincerely,
Molly R. Gray
Lieutenant Governor
State of Vermont
Cc:
Senator Patrick Leahy
Senator Bernie Sanders
Representative Peter Welch